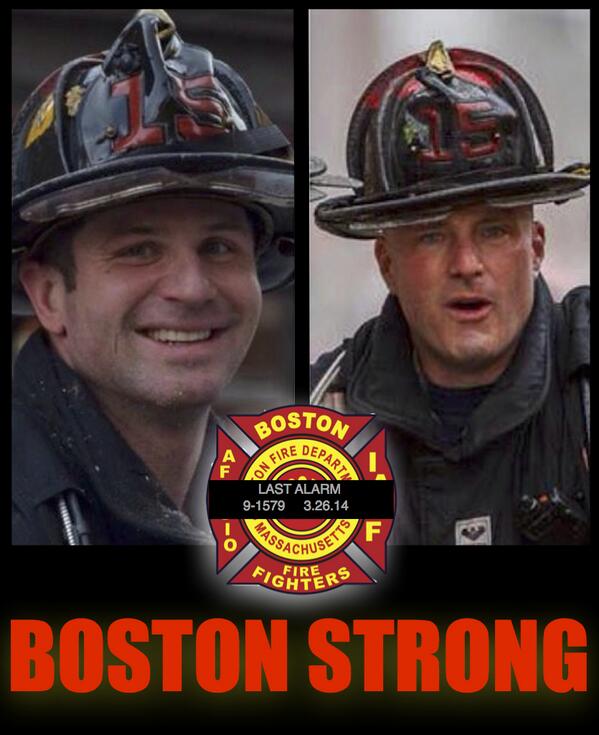 Boston firefighters Michael Kennedy (left) and Ed Walsh (right) – died yesterday, 26 March 2014, while doing their job – fighting a 9-alarm fire in the Back Bay of Boston, MA.
I turned on the news just as this fire had first started, sometime around 2:45 pm yesterday. All the local TV stations carried it for the rest of the afternoon, and I watched in horror as the flames ate up a 4-story brownstone building on Beacon Street in Boston's Back Bay area.
And I knew something went wrong right from the start when the "crime scene" tape went up and the reporters said there was a huge police presence both at the fire scene and at Mass. General Hospital. I told Paul that I suspected someone had died already, at the beginning, and in the end, it was two firefighters who gave up their lives to save others in that fire.
This entry is to stop and give thanks to all the firefighters and first-responders across our country, and the world, who are there for us, never asking questions, just running into harm's way so we can be spared injury, or worse.
This fire was made even worse because of our very high winds that were unrelenting all day long – up to 50 mph winds, which led the police spokesman to say that he has never seen a fire spread up a building so fast in all his 30 years of firefighting. Never.
Even after 8:30 last night, we looked at a news show and a live picture of the burnt-out building showed flames still lapping the roof and upper stories of that building. Incredible.
Now starts the mourning process here in Boston. I feel for the wives, children, mothers, fathers and friends of these two men.
Thirteen other first-responders also were taken to hospital but they will return to their loved ones and homes… but not so for Ed Walsh and Michael Kennedy – who were far too young and brave to be taken from this life.
Cheers for our local heroes and for those across the Earth,
Bex & Co.
It's in every one of us to be wise;

Find your heart, open up both your eyes.

We can all know every thing without ever knowing why.

It's in every one of us, by and bye.
~ John Denver & The Muppets ~
~ ~ ~ ~ ~ ~ ~ ~
2003 – Present Archives at Diaryland

2007 – 2009 Archives at WordPress

2009 Archives at JournalScape

2010 Archives at JournalScape

2011 Archives at JournalScape

2012 Archives at JournalScape

2013 Archives at JournalScape

2014 Archives at JournalScape