</center
The Winner of The (British) Open Championship – Rory McIlroy!
This was my first full golf tournament. I am a Rory McIlroy fan, and Rory has just won the British Open, not 5 minutes ago.
He has inspired me to follow golf more now. I've always wondered what everyone saw in this sport, but for some unknown reason, this past week I have tuned in every day and watched the players play.
He's tearing up right now in the interview. He's only 25 years old and has been playing golf since he was a wee baby in Northern Ireland.


Rory and Dad
He hugged his Mum at the finish and said it was the first time she's been there at the finish of a major tournament he's won.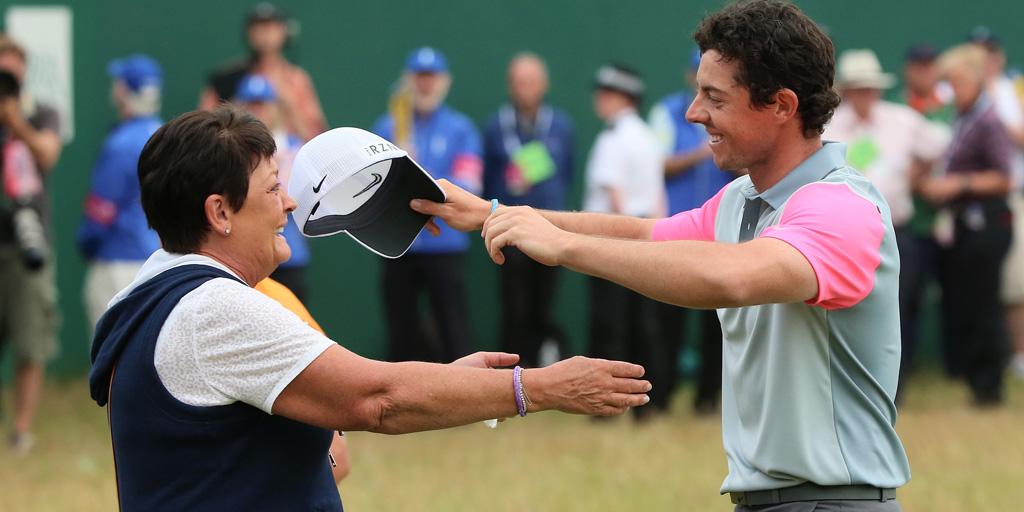 Congratulations Rory! A splendid Open Championship!
I wish now that I'd discovered golf years ago. I remember one time my ex-husband, Bill, had taken up golf after we split up, and he told me that the sport was a special one, simply because when you are playing, "you find yourself in the most beautiful spots in the world." And when I thought about that, he was right. Golf courses are beautiful, for the most part. I suppose if it's pouring down rain, it might not seem so bucolic, but on a nice day, who could find a more peaceful place than on a golf course?
So Rory is the Champion of the 2014 British Open.
I'm smiling.
Cheers,
Bex-the-new-golf-fan
~ ~ ~ ~ ~ ~ ~ ~
2003 – Present Archives at Diaryland

2007 – 2009 Archives at WordPress

2009 Archives at JournalScape

2010 Archives at JournalScape

2011 Archives at JournalScape

2012 Archives at JournalScape

2013 Archives at JournalScape

2014 Archives at JournalScape